LeoVegas Casino - Live Gambling - Poker, Roulette & Blackjack Review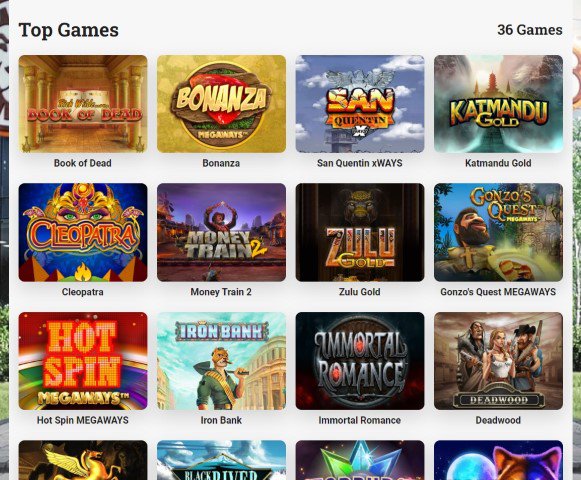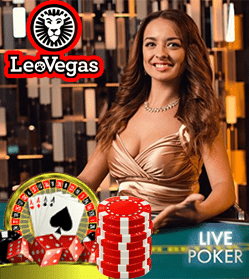 What comes to mind when you hear the word "Vegas?" Is it live poker? How about some good old fashioned live blackjack? Whatever it is, odds are, there are images of neon lights and glittering fantastic fun dancing in your head. While not everyone has access to the Vegas Strip, anyone can log onto the LeoVegas Casino platform for the same thrill. The best part? You won't need to leave the comfort of your couch for a round of live blackjack or the unbridled joy that comes from hitting it big on the slots.
Though LeoVegas Casino has only been in the gaming business since 2012, their site continues to grow and garner new fans. The reason? While most platforms only offer standard browser based gaming, LeoVegas casino is all about bringing mobile gaming to the forefront of the online casino space. This focus has allowed LeoVegas casino to emerge as one of the best online casino offering live poker, live roulette, and live blackjack.
With that said, is the thrill of the LeoVegas casino platform worth all of the hype surrounding it? We're taking a deep dive into online Leovegas casino with a review that goes deep. Whether you're curious about live poker, live roulette, live blackjack or banking options, we'll cover it all below.
Accessibility at LeoVegas Casino
Even the best online gambling site won't do you much good if your country isn't eligible to partake in play. That's right no amount of live roulette can save a casino that you can't play at. Unfortunately, every country holds its own laws and regulations, meaning you won't be able to access every casino on the web. What about the LeoVegas Casino? In terms of accessibility, there are around eight distinct regions that cannot play at LeoVegas casino. This includes the United States, most of Asia, much of Africa and Russia, among many more. Due to regulations in these regions, gameplay at Leovegas casino is not permitted. That means no live poker or live roulette if you live in one of these areas.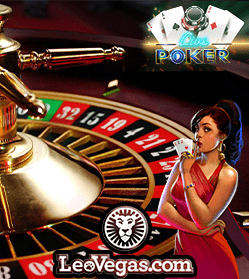 However, LeoVegas Casino does allow players from much of Europe, including the UK, Austria, Germany, and Norway, among many other big countries. Players from these regions are also automatically eligible for bonuses and promotions, whereas some regions cannot access those bonuses even if they are eligible for game play. Accessibility at LeoVegas casino is pretty good, but as is the case with most online enterprises, there are some limitations based on local and regional gambling restrictions. Sadly, that means no live poker for some folks and plenty of live roulette for others.
Banking Deposits and Withdrawals
One thing we always try to note early in our casino reviews is how a certain casino handles their banking practices. The reason? Banking can be a make or break issue for a number of players, especially if deposits and withdrawals are complicated or inefficient. After all, even the best live roulette in the world can't save a less than stellar experience with money. Okay, maybe live poker, but we digress. What's the banking process like at LeoVegas Casino?
For the most part, banking is pretty standard. You're not in for many surprises nor will you feel as if your private information is ever compromised or at stake. With high-end encryption practices and SSL, what is yours remains yours. There is no threat of malicious interference with your precious banking information. That's paramount in actually enjoying live blackjack games and slots at a casino.
Security aside, LeoVegas Casino also offers a standard amount of banking methods to utilize when you're making deposits or withdrawals. You can go with classic card options such as MasterCard or Visa, or choose to go with Maestro or Skrill. Overall, there are seven banking options at your disposal for deposits. Cashing out offers similar options, but you cannot use Mastercard. Visa is still on the table, as are Skrill and Maestro. There are six total withdrawal options. Once you make all that money on live blackjack, you can cash out with ease.
As you're heavily invested in a round of live poker, live roulette, or live blackjack, keep in mind that there is a $10 minimum deposit on all transactions and a $20 minimum withdrawal on all methods.
Live poker, Live roulette and Live blackjack At LeoVegas Casino
All of the banking methodology and access in the world doesn't mean anything if the games at a given casino aren't diverse or enticing. Luckily, whether you love live poker or live blackjack, or simply want to kill some time at the slots, you've got some serious options. Unlike competitors, LeoVegas Casino is all about the numbers. That means they go big in every way possible, especially when it comes to gaming selection. Slot fans, you can choose from 626 diverse games, including 21 classic slot additions for those that love to go a bit old-school.
Live casino fans? You've got a stellar 42 games to choose from in the Leovegas casino arsenal. Whether you're jonesing for some live roulette or looking to try your luck at live blackjack, there are options. You can even partake in one of many Leovegas casino live poker tournaments happening on a given day. You'll find all of the old standards, like live blackjack and craps, as well as games that were specifically made for Leovegas casino.
The overall live format of the Leovegas Casino allows users to choose which game works best for them. Dealer criteria and other preferences that often determine whether or not you enjoy a certain game rests firmly in your hands. With that in mind, we do agree that their live poker ranks among the best we've seen. Definitely check out live poker if you like the game.
Table game fanatics, casino Leovegas has you covered. Thanks to their collaboration and work with disparate software providers you have around 45 unique table games to choose from. We found each game we tried to be engaging and fun. You'll find everything from side bet games to high-limit options with sky-high jackpots. Of course, it is hard to deny that we're totally impartial to the live options at LeoVegas casino. Our favorites are the live roulette, the live poker, and the always enticing live blackjack.
Promotions and Special Offers
Any standard casino seeks repeat customers. To ensure that players want to actually frequent your casino, you're going to have to offer a relative buffet of promotions and offers to keep interest high. Not every casino gets this aspect of operating as a gambling enterprise correct. In terms of special offers, how does LeoVegas Casino hold up? We found several distinct offers for both the live dealer games, the casino, and the sportsbook. For our purposes, we'll be focusing on standard bonuses and live bonuses procured at games such as live poker, live blackjack, and live roulette.
Every new guest is welcomed with a robust bonus at the standard casino. Not only is this bonus quite generous, but it comes complete with those hard to attain free spins. New users are granted the bonus with their first four deposits. The only caveat is that those deposits must be made within a single week. For your initial deposit, you'll garner up to $200 green ones and some free spins. Twenty-five if you want to be exact. With your subsequent second and third deposits, users can get up to $500 and an additional 25 free spins. Not bad for simply signing up and creating an account at Leovegas Casino.
Leovegas casino also permits some rather key live game only bonuses, including live roulette. What can you expect from this bonus? Well, any live player can generate a full match up to $100 without having to do much of anything extra. The bonus is not game dependent. This means you can choose any and all games such as live poker, live roulette, or live blackjack. Never again will you have to debate the emirates of live roulette, live blackjack, or live poker. Just play your preferred game and wait for the bonus offers to come rolling in.
The Takeaway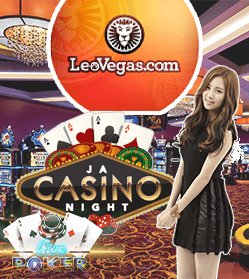 We know there's more to a great casino than live roulette or live poker. In fact, live poker, live roulette, and live blackjack are just one piece of the total puzzle. There's also slots, table games, and jackpots to test your luck. When it comes to Leovegas Casino, how do we rank this top mobile game site compared to others? Well, we'd say they're pretty ahead of the curve. As mentioned above, it is hard to beat their live game offerings. Their live roulette is like being in a true Vegas table room and their live blackjack is as white knuckle as it gets.
Gameplay is easy, accessible, and fun. There are hundreds of slot options and table games that should suit any player/skill level. Banking and transactions are as secure as can be. Never did we feel uneasy about utilizing the deposit or cash out methods offered by LeoVegas Casino. Aesthetically speaking, the browser based platform and mobile app are clean and user-friendly. Searching for what you want to find is a breeze whether it's live poker, live roulette, or live blackjack. No headaches or dealing with keywords to get exact matches.
Another thing we enjoyed was that live players have the option to tailor their preferences. For example, let's say you want to play some live roulette, but you want a certain type of dealer or setup. You can input your preferences to get exactly what you want. The same goes for live baccarat, live poker, and live blackjack. You hold the power to optimize your experience.
It is this player-first standard that makes us love LeoVegas Casino all the more. Sure, the live roulette is nice and the slot choices are outrageous, but feeling valued means even more.